HY-205-V0 HDMI to VGA Converter with SPDIF and analog Audio out
HY-205-V0 HDMI to VGA Converter with SPDIF and Analog audio out Introduction
HY-205-V0 HDMI to VGA converter with SPDIF and Analog audio out are designed to make A/V device use more convenient, comfortable, products and cost-efficient.The HDMI converter box can convert one input HDMI signal into a VGA analog video signal and one digital audio or one analog audio output. The HDMI input port can be connected to any standard HDMI signal source device ( such as the DVD player,PS 3,S Xbox 360,STB,PC), The VGA output port can be connect to display device(TV/Monitor/Projector). The SPDIF /AUDIO port can output high quality sound to a av surround amplifier.

Our devices offer solutions for home theater, TV sales exhibition, data center control, information distribution, conference room presentation, school and corporate training environments.
HY-205-V0 HDMI to VGA Converter with SPDIF and Analog audio out Features
One single HDMI signal input convert to one VGA + SPDIF or one VGA + analog audio signal output.
Supports HDMI input: 480P/720P/1080P @ 60Hz.
VGA output resolution changes automatically with the input resolution: 640 x 480 @ 60Hz,800 x 600 @ 60Hz,1024 x 768 @ 60Hz,1280x 720 @ 60Hz,1280 x 768 at 60Hz, 1280 x 800 at 60Hz,1280 x 1024 @ 60Hz,1360 x 768 @ 60Hz,1600 x 1200 @ 60Hz,1920x 1080 @ 60Hz,
The corresponding HDMI resolution:
HDMI Input: 480P 720P 1080P
VGA Output: 640 x 480 at 60Hz 1280 x 720 @ 60Hz 1920 x 1080 at 60Hz
Supports DTS/AC3/LPCM/PCM digital audio output,Support 5.1ch.
Built-in digital audio decoder can decode LPCM/PCM digital audio into analog stereo output.
Low-power digital single chip solution,less heat and long time stability.
Easy to Install and Automatically Check the input signal.
No need extra power supply.
HY-205-V0 HDMI to VGA Converter with SPDIF and Analog audio out Specifications
HDMI standard..................................................................HDMI 1.4b
HDCP standard..................................................................HDCP 1.4
HDMI resolution..........................................1080P/720P/480P@60Hz
Support up to VGA...............................................1920 X 1080@60Hz
Support audio format...............................DTS/Dolby-AC3/PCM/LPCM
Max bandwidth.....................................................................165MHz
Input/Output TMDS signal........................................0.5-1.5Vp-p(TTL)
Input/Output DDS signal...................................................5Vp-p(TTL)
Input cable distance.....................≤15m AWG26 HDMI standard cable
Output cable distance.................................≤15m VGA standard cable
Max working current...............................................................360mA
5V DC specifications..........................................................5V/500mA
Operating temperature range...........................................-15to +55℃
Operating humidity range.....................5 to 90%RH(No Condensation)
Dimension(L x W x H)..............................................69X64X25.5(mm)
Weight.....................................................................................100g
Certificates CE, FCC and RoHs

HY-205-V0 HDMI to VGA Converter with SPDIF and Analog audio out Package Contents
1. HDMI to VGA converter x1
2. Audio cable x1
3. Micro USB cable x1
4. User Manual x1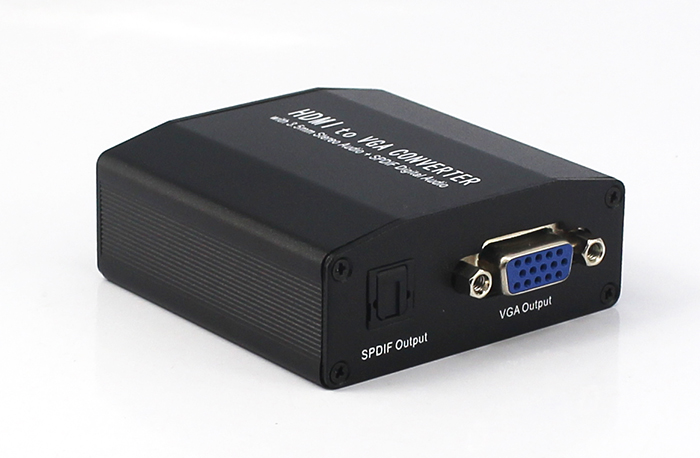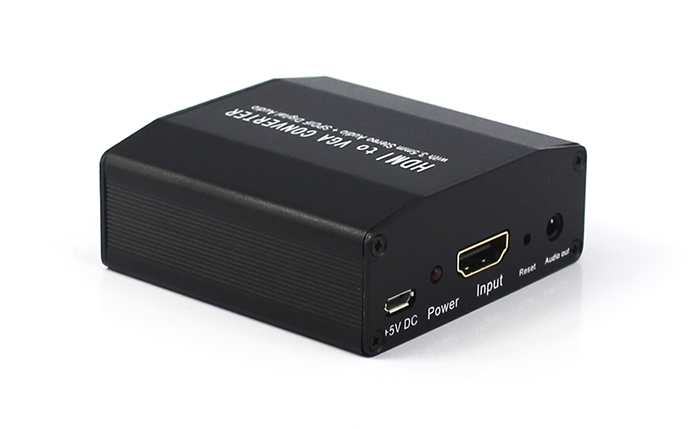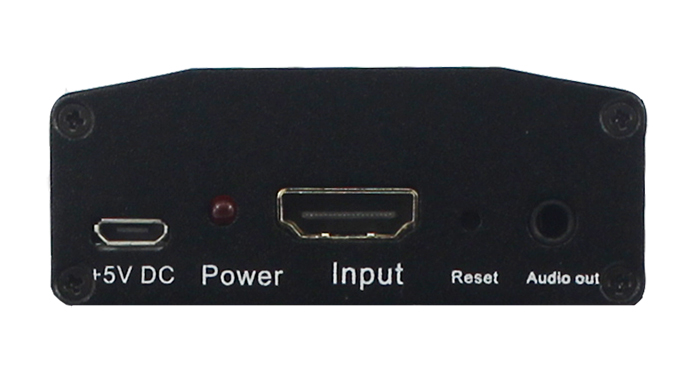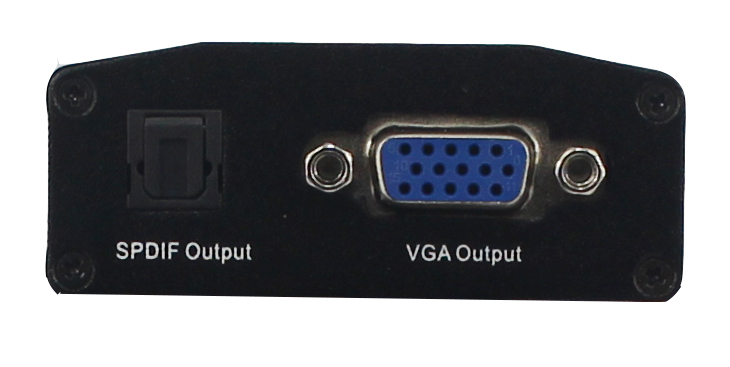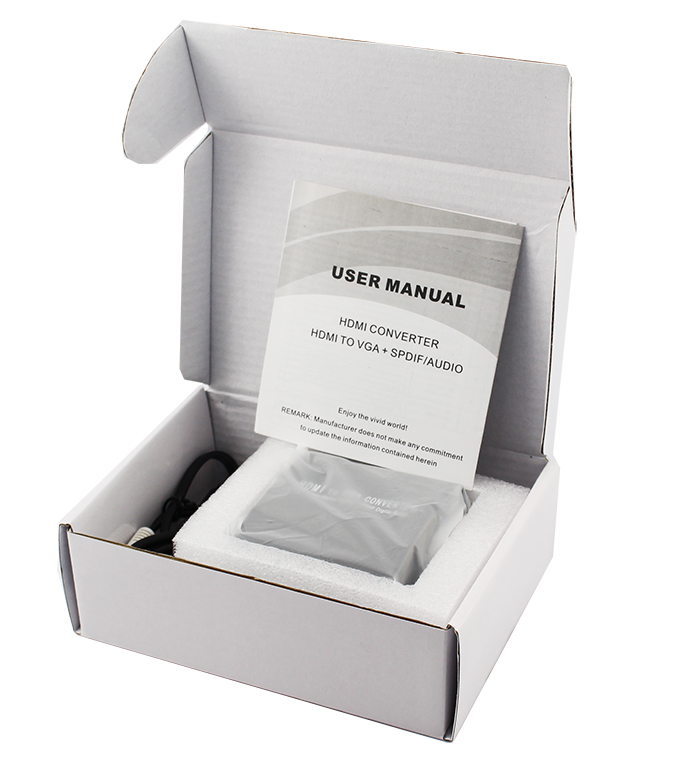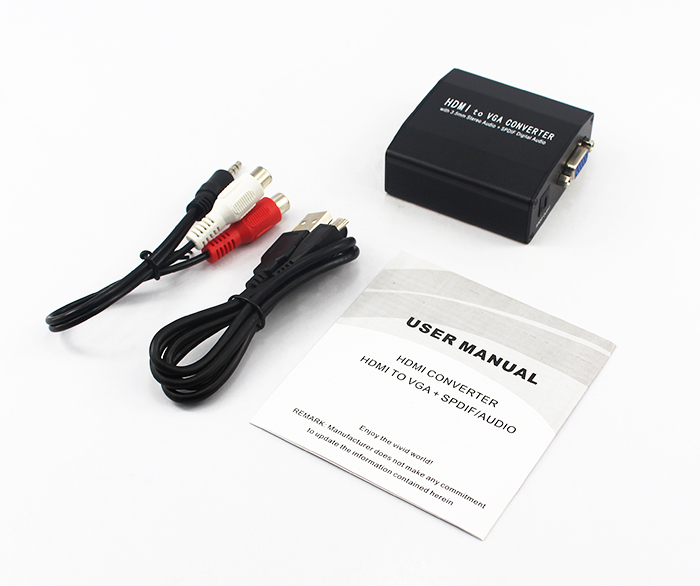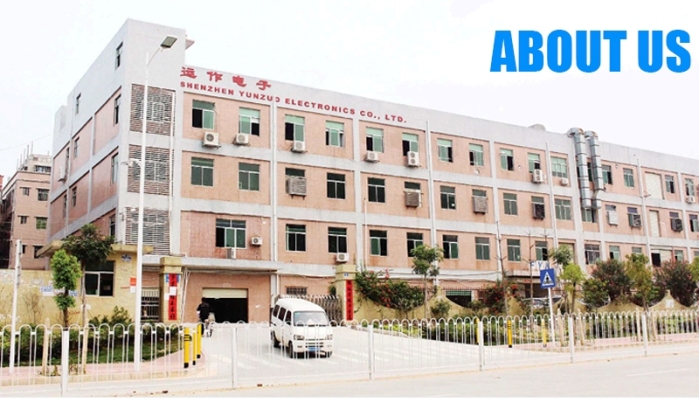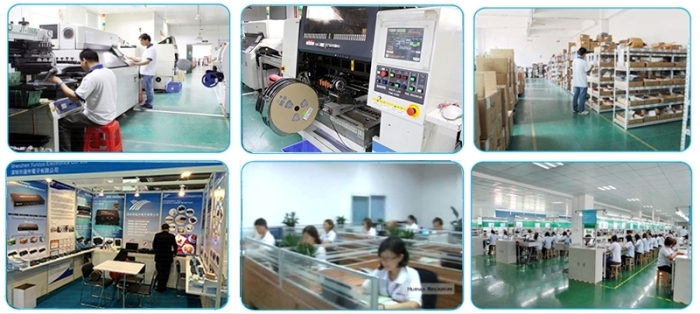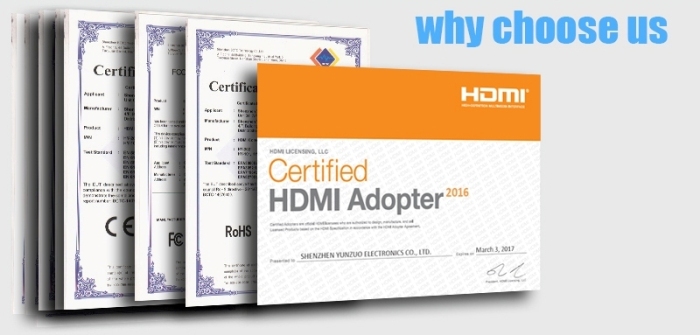 Группа Продуктов : Конвертер HDMI